I designed an all-in 3D printed table saw throat insert. It features changeable dovetailed zero clearance strips that are easy to make from 1/4″ birch plywood. The insert allows full range of movement of blade and splitter (height and tilt angle). It has leveling feet for perfect alignment with the table surface, a safety tab, and fine fit adjustment screws. It can be printed on most common household 3D printers. While it is tailored for my particular table saw, I'm hoping that the design can be tweaked to fit other left tilting saws.
Design Goal
My SteelCity 35606 table saw, like many others, came with a really bad throat insert. When I used it, there were 5 mm gaps on either side of the blade. I have been making custom throat inserts out of Baltic Birch plywood. Those plywood inserts took some time to make. Because of that, I often did not feel like "ruining" one of them when I needed to use the saw for a one-time blade and tilt combination. I wanted an insert that would allow me to always have zero clearance surface, so I designed this.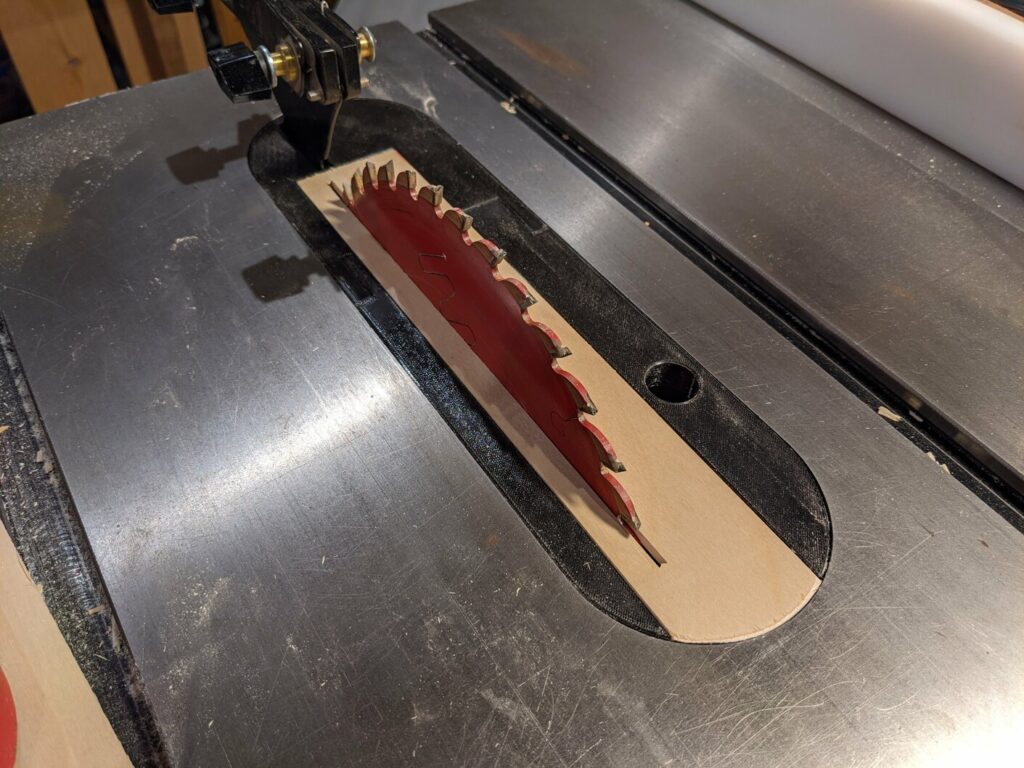 Dovetailed Insert Strips
The main feature of this insert is the dovetailed groove. It allows slide-in zero clearance inserts that are very quick and cheap to make from 1/4″ birch plywood. Just set your tilt to 60 degrees, and adjust your fence for a perfect width. Rip a large number of rectangular dovetail inserts. Finish the rounded ends with a bandsaw, a jigsaw, a sander, or a combination.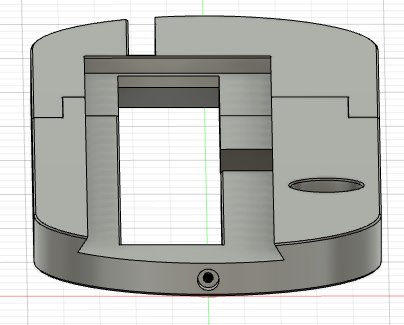 Leveling Screws and Clearances
The insert features four leveling screws that allow adjusting the insert to be perfectly flush with the table surface. Underneath it has clearances for the arbor and the splitter mount. The arbor and the mount rise pretty close to the table surface when the blade is tilted.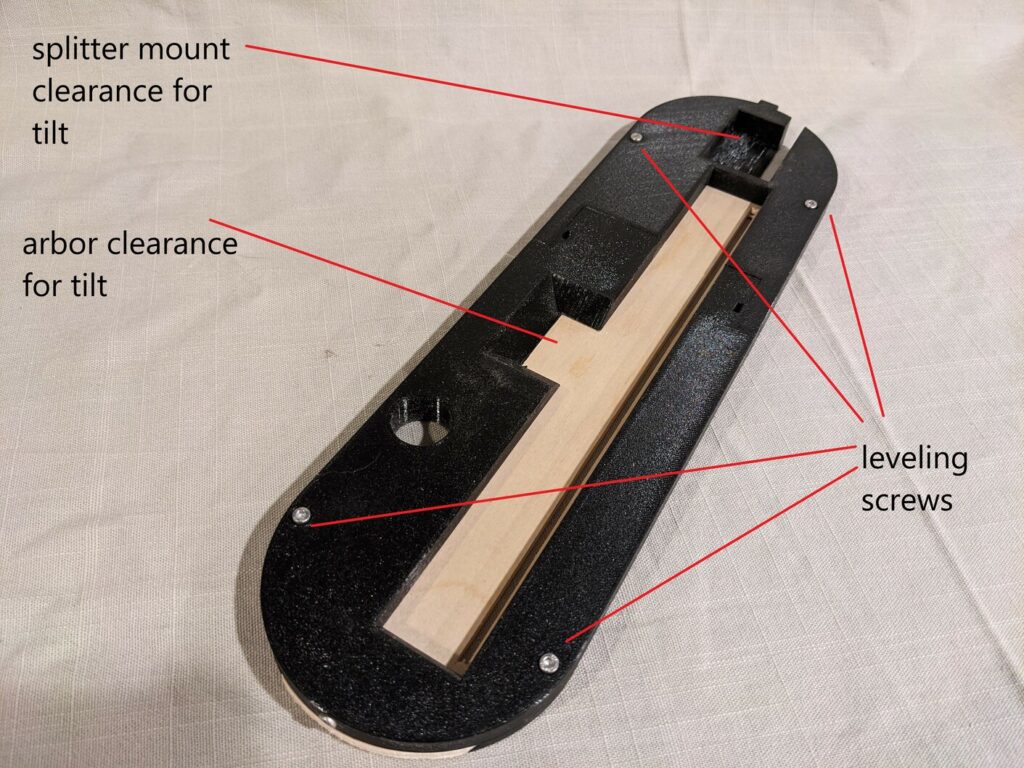 Fit Adjustment Screws
Two adjustment screws on the right, and one up front allow for precise fit in the table. This eliminates any lateral or front-to-back play in the fit.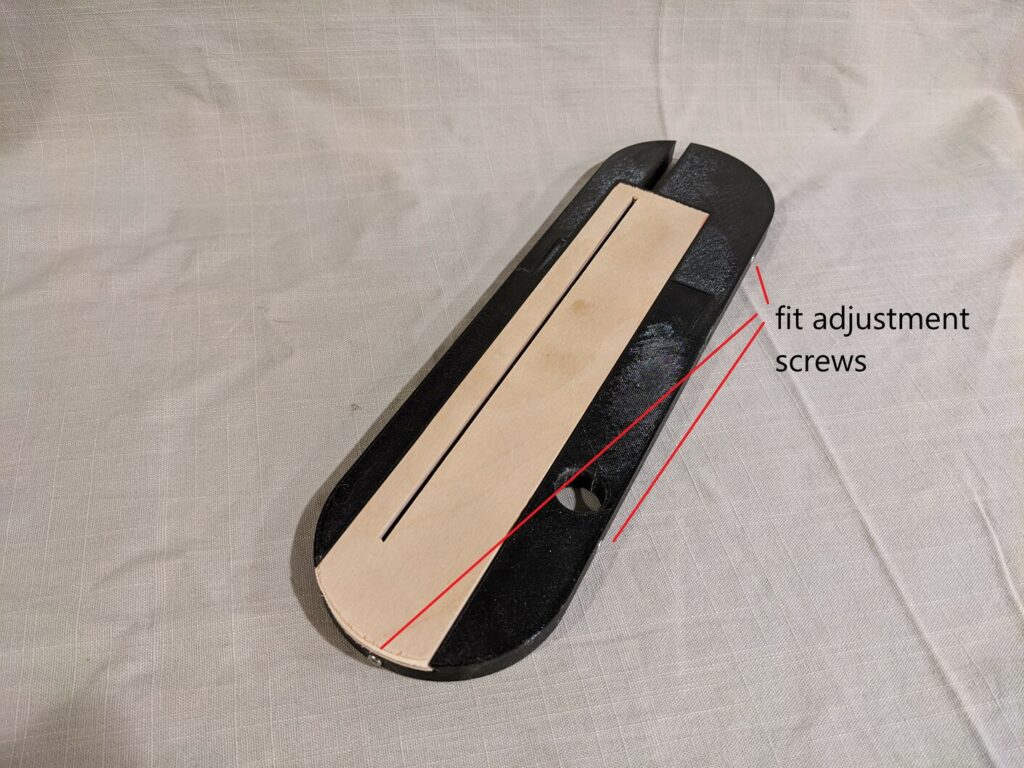 Split Design to Fit Most 3D Printers
My 3D printer's build area does not allow to print the insert as one piece. So I had to go with a split design. The two pieces are held together with two M3 screws and square nuts, guided with angled self-aligning finger joints.
Safety Tab
On the rear of the insert there is a safety tab. The tab prevents the insert from being lifted out and thrown by the blade.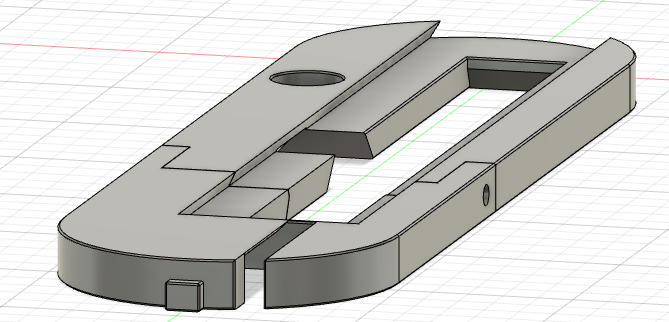 Printing
I printed my insert with PETG, using 2 perimeters and 15% infill. In my opinion, it came out strong enough this way. I enabled supports for the arbor clearance in the front piece, and for the splitter mount clearance in the rear. I considered printing in ASA or ABS. But since no part of the insert should come into contact with the blade, there should not be any friction to generate high temperatures.
My converted garage workshop can get pretty hot in the summer. I doubt that the temperature can reach the threshold at which PETG sags. I'll see.
BOM
For hardware, the insert requires nine 10mm M3 socket head screws, and two M3 square nuts. The threads for the leveling screws and for the adjustment screws are modeled into the plastic. I designed the threads to be pretty tight. The tightness of the plastic thread will prevent the screws from coming loose from the saw vibrations. Initially I tried using nyloc nuts. But I only found hexagonal M3 nyloc nuts. And it is very hard to prevent hexagonal nyloc nut from rounding the pockets the plastic. This results in a stuck screw, ruined insert, and profound cursing. So, in my opinion, plastic threads are a better choice for such undemanding application of screws.
Design Files Download
I'm very happy with how the throat insert turned out. Unfortunately, my SteelCity 35606 table saw is not exactly common. So I wonder how many people would be able to use my design as-is. My saw's blade tilts to the left; right-tilting saws would probably call for the most changes to the design. I am releasing the STEP file and the parametric Fusion 360 file. Download and tinker with them, to adapt the insert to other saws. If you do so, please let me know.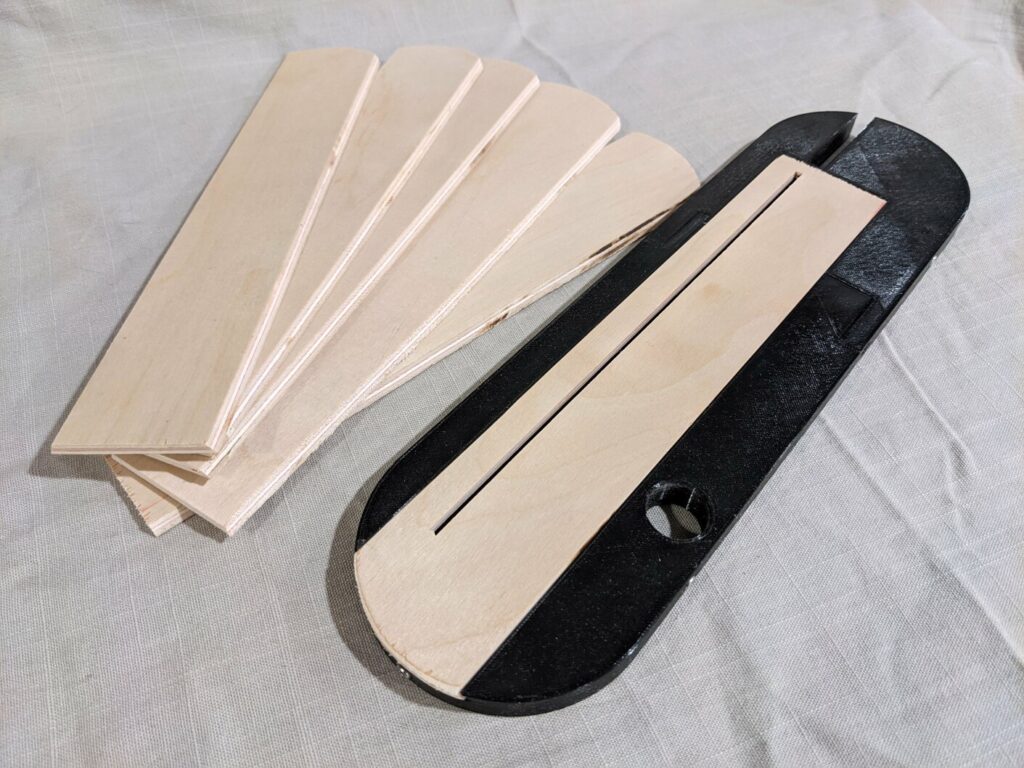 The design is released under the Creative Commons Attribution NonCommercial license. Design files and STL models can be downloaded below. If you find my design useful, you can buy me a coffee.